Heritage Finds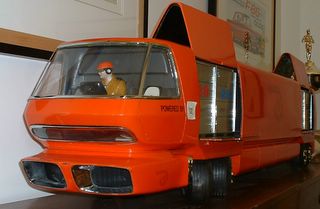 It's quite easy to find the history of GM Light Trucks, particuarly that of Chevrolet Pickups. But for those intrigued by the heavy duties - particuarly the concept trucks that fascinated us at auto shows or never saw the light of day - the task becomes particuarly harder.

That's why I wasn't expecting much in this subject when I visited the GM Heritage Center recently. Opened earlier this year, the Heritage Center is intended to be a culimnation of GM's historical archives, along with their historical vehicle collection.

While most of the floorspace inside the garage was dedicated to cars, or light trucks, there were some interesting finds, for the GMT enthusiast with a sharp eye.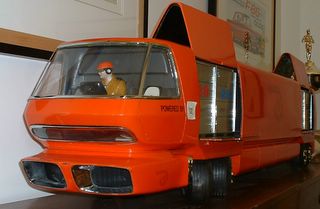 Located inside the Center's office is this; a GM Design scale model of the Turbo Titan 1. This levathian of a model is made from fiberglass, and was displayed at the 1962 New York Auto Show. The Titan 1 not only incorporated the idea of Gas-Turbine Power
(conveniently supplied by GM's Allison division)
, but also modular storage handling - similar to that used in recent Hino concepts. Regardless, it's unclear if the Turbo Titan 1 ever made it to full scale - albeit the later Turbo Titan III did.
In the rear storage area of the Center, two large-scale models are set upon a bookshelf; one being a replica of the solar-powered Sunraycer. But it's company couldn't be any more different: meet Captain Hook. This giant size big-rig presents itself as a tandem-drive wrecker, with a front end that closely resembles that of the
HME Bullet
. Interestingly enough, this model uses an extended-cab from the then-new GMT 400 series pickup, indicating that perhaps GM did want to continue heavy-duty production after 1987.

Indeed, additional evidence is given with the truck's nomenclature: Aero Brigadier. Not only is this font identical to that on Aero Astros, but it clearly indicates that GM wished to remain in the heavy truck market, if only with smaller conventionals.



It should be noted here that the Heritage Center is open only to private tour groups, and you may need some coaxing to get yourself access to the site. However, perhaps the rarest beast lies out in it's parking lot - which is relatively free to access. Parked among stacks of shipping crates lies this, a GMC Aero Astro. While rare within itself (less than 300 are estimated to have been built over 2 years), this unit is additionally special.



In lieu of it's original black-and-white monotone scheme, this Aero is in a striking but worn combination of silver, black, and red - and also sports 'Oldsmobile Motorsports' livery on it's sides. While this truck was used by Olds for such purposes, this Aero Astro is not only the former GM Design transporter, but the first 'prototype' of this package altogether.

All we can do at this stage is hope that GM not only increases access to such an amazing site - but also that they reckognize the value of the truck behind it. Having watched the Bruin concept and the 2-Door 800 Tahoe mule being scrapped, it's a sad fact that could loom all-too-near for this truck.